Every Saturday in the run up to New Year, I thought it would be good to take a step back in time and relive some of our most brutal and legendry British and European winters of the last 100 years.
The severe, relentless winter of 1946-47 will be long remembered as one of our most legendary.
Last week A LOOK BACK: Winter Of 1962-63
Here are some of the accounts.
Daily Mail article written in January 2010
Cheer up! At least it's not 1947 – the winter of power cuts, no TV or baths and children sent to bed without dinner because there wasn't enough food
Source: http://www.dailymail.co.uk/news/article-1242189/Cheer-At-1947–winter-power-cuts-TV-baths-children-sent-bed-dinner-wasnt-food.html
On Thursday, January 23, snow began to fall in the South East. It was the start of Britain's most severe and protracted spell of bad weather during the 20th century.
Housewife Florence Speed was one of millions who shivered. 'I was frozen today,' she noted in her diary. 'Gas is on at such low pressure. Worked with scarf over my head, mittens on, and a rug round my legs.'
Two women delivering milk in Northampton by sledge during the harsh winter of 1947
The big freeze continued to tighten its grip. By the 29th, the coldest day for more than 50 years, poor Florence was borrowing a balaclava to wear in bed.
She was not the only one to feel the cold. The lights went out all over the country; electricity was off for long spells; gas in most big cities was at about a quarter of its normal pressure; and amid huge snow drifts, transport virtually ground to a halt.
'Wearing my snow boots and fur-lined coat I was not once warm,' grumbled architectural historian James Lees-Milne.
'All my pipes are frozen, so a bath or a wash is out of the question. WC at the office frozen likewise. And we live in the 20th century. Even the basic elements of civilisation are denied us.'
A visitor to London at this miserable time was the author of Goodbye To Berlin, Christopher Isherwood, over from America for the first time since before the war.
A London bus that had to be dug out of a snowdrift in 1947
He felt that Londoners themselves 'didn't seem depressed or sullen'  –  though 'their faces were still wartime faces, lined and tired', while 'many of them stared longingly at my new overcoat'  –  and his only criticism of their prevailing stoicism was that 'perhaps the English had become a little too docile in their attitude toward official regulation'.
 By contrast, he found London's physical shabbiness 'powerfully and continuously depressing'. As for the snow, he said, 'it soon assumed the aspect of an invading enemy.
'The newspapers spoke of it in quasi-military language: "Scotland Isolated", "England Cut in Half"… everybody in England was shivering. I remember how the actors played to nearly empty houses, heroically stripped down to their indoor clothes, while the audience huddled together, muffled to the chins in overcoats, sweaters and scarves.
'Two or three of my friends said to me: "Believe us, this is worse than the war!" By which I understood them to mean that the situation couldn't by any stretch of the imagination be viewed as a challenge to self-sacrifice or an inspiration to patriotism; it was merely hell.'
Such were Isherwood's recollections, published some nine years later. At the time, his visit made a considerable impact upon his friends. 'We realised we had become rather careless of appearances in our battered surroundings,' recalled his host, the writer John Lehmann: 'The adrenaline [of war] was no longer being pumped into our veins.
Hardy cyclist David Joel cycling on a frozen Thames near Windsor Bridge in London during the 1947 cold snap
Cold comfort: A man walking on a frozen stretch of the river Thames in west London
'We endured with misery and loathing the continual fuel cuts, the rooms private and public in which we shivered in our exhausted overcoats, while the snow blizzards swept through the country again and yet again.
'Were there to be no fruits of victory? The rationing coupons that still had to be presented for everything from eggs to pieces of scraggy Argentine meat, from petrol to bed linen and "economy" suits, seemed far more squalid and unjust than during the war.
'Worse, still, to my increasingly disillusioned eye, was the kind of mean puritanism that the newly triumphant Labour MPs and their officials appeared to have decided was the proper wear of the day.
 Too many of them seemed to think there was a virtue in austerity and shabbiness, in controls and restrictions.'
The snow continued. On February 3, there was a heavy fall in the north and Midlands. Retired teacher Mary King noted in Birmingham: 'Tonight, 17,000 employees will be idle at the Longbridge Austin Motor Works through lack of fuel. Many other firms are in the same plight. It is a dreadful thing to face.'
Two days later, her anxiety deepened: 'One thinks of the shortage of fuel, and home comforts, such as blankets & sheets  –  the scarcity of food  –  and the unemployment of thousands of workers in factories due to lack of coal materials. Never in my lifetime have I known such a period of history.'
Winter test: A bus abandoned in a snow drift on the Poole-Dorchester road near Bryantspuddle in January 1947
A Central Line underground train entering Epping Station, during heavy snowfall at the height of 1947's freeze
Cold diggers: Men clearing snow on the Gravesend-Meopham road in Kent
Finally, on Friday 7th, Baron Shinwell, Minister of Fuel and Power, and his colleagues acted. With supplies of coal failing to reach London, the Midlands and the North-West, he announced that from the following Monday not only would electricity supplies to industry in these regions be suspended, but householders there would have to make do without electricity daily for five hours.
'Somebody has been short-sighted somewhere, sometime,' was Mary King's eaction, and over the weekend much wrath, public and private, was directed at Shinwell.
The pro-Tory Glasgow patternmaker Colin Ferguson castigated Shinwell's 'crass ignorance' and saw the crisis as conclusive evidence that Clement Attlee's government was 'the silliest set of sneering gas-bags we've ever been cursed with in this country'.
On Sunday it did start to thaw in London. But on Monday, 'it froze again very hard, so that', in Lees-Milne's words, 'the slush is like slippery brick'.
The next 12 days or so were the height of the crisis, with the weather unremittingly grim and unemployment rising to over 1.75 million (compared to just over 400,000 in mid-January).
Government-imposed restrictions were intensified: no electricity for five hours a day across the nation's households; television; major cuts in radio transmission times; newspapers severely cut down in size; most forms of external lighting forbidden; and no electricity to be used in relation to activities such as greyhound racing. Inevitably, the miners in these weeks came under acute pressure to raise production levels.
The biggest freeze? Cars and buses struggle to negotiate Trafalgar Square in January of 1947
On Sunday the 16th, 'Coal Sunday', many miners in Wales voluntarily worked a full shift, winning praise for the 'Dunkirk spirit'.
Few people enjoyed these mid-February days and nights. At Oxford, 'CHRIST IT'S BLEEDING COLD' was how the undergraduate writer Kingsley Amis put it to his friend the poet Philip Larkin in the university newspaper.
'Life here is quite impossible,' Evelyn Baring of the merchant bank Barings reported to a fellowbanker, 'and really no one would have believed it if they had read it in a novel.
From 9 to 12 and 2 to 4 we work in the dim glow of candlelight or nightlight.'
Diary entries from the time reveal the scale of the privations  –  and growing frustration  –  of the ordinary public: Rose Uttin writes: 'February. No soap to be bought anywhere, & I feel ready to drop with fatigue by 2pm. Lily sent me 2lb potatoes through the post; I am saving them for Sunday's dinner.'
And Florence Speed records. 'Penalty now for using current during restricted times, the situation being "dangerously critical", is now a fine of £100 or three months' jail.
Yet despite this a woman in a queue in Brixton declared defiantly, "Well anyway, I'm going to switch on the iron; do my ironing as soon as I get home."
It's because so many haven't played fair  –  the worst offenders are shopkeepers  –  that the penalties have been imposed.'
A coalman in Croydon spoke with particular personal experience. 'It's like everything else, the people with a lot of money get all they want,' he explained.
'I delivered half a ton this morning to a house in Purley, their fair ration mind you, but they've already got a stock of about a ton and a half and a couple of tons of coke besides. Now you can't get any coke, but those fellers can, they've got the money see.'
Wrong type of snow: Tunnels to front door of a house covered by snow in the Peak District, Derbyshirein 1947
In terms of obeying the restrictions on the use of power it is clear that not everyone played the game. Nevertheless, in the weeks beginning February 10 and February 17, there were rates of saving of 29 per cent and 28 per cent, ie by comparison with the level of coal consumption immediately before the cuts.
For one child, this winter the big freeze was a mixed blessing, for another it was an unmitigated disaster. Future Labour politician Roy Hattersley, growing up in Sheffield, every day after school went sledging  –  'tearing downhill on toboggans as we used the public highways as our Cresta Run', for at that time 'there were few motor cars in Wadsley'.
But at night he would leap into bed, still with the socks on that had protected him from 'the freezing linoleum' and huddle under an 'immense weight of sheet, threadbare blankets, eiderdown and coats carried up from the wardrobe at the bottom of the stairs'.
For the future Rolling Stone Bill Wyman, growing up in Penge, South London, the atrocious weather meant that his bricklayer father was laid off work and no money came in.
'There wasn't enough food to go round, so he'd hit a couple of us, send us to bed without any dinner,' one of Bill's brothers recalled. '"Get to bed, don't argue!"
Then you'd get hit, kicked up the stairs  –  vroom, that was it. And in the house we lived in, you didn't want to go to bed. It was freezing, really nasty, with ice on the inside of the windows.'
The weather remained bitterly cold until well into March, but industry gradually got its power back and almost all the temporarily unemployed returned to work. The restrictions on domestic use of electricity, however, remained in force until the end of April; though the clear evidence was of a rising trend from late February in covert consumption, suggestive of a general unwillingness to continue making peacetime sacrifices.
Eventually, the weather did turn. 'The thaw is here!' exalted Gladys Langford on the 10th, and within a week it had spread from the south of England to elsewhere.
But widespread floods, caused by heavy rain accompanying the thaw, affected as many as 31 counties south of the River Ouse, destroying 70,000 acres of wheat and 80,000 tons of potatoes.
It was the final supply-shortening, queue-lengthening twist to an unforgettable winter.
Famous British Winters
Written by D.Fauvell this page looks in more details at some of the most severe UK winters in history, including of course the much talk about winter's of 1947 and 1963.
Daily meteorological records commenced in the 17th century, since then, there have been a number of severe winters, some exceptionally severe…
During the winter 1739/40, between November 1739 and May 1740, London had 39 snowy days, a quite exceptional figure when considering the usual 90's figure. But January and February 1740 where surpassed numerous times, in regards to temperatures, some years being much colder.
England and Wales where made to wait for another '1740'…made to wait another 223 years…until 1963.
In fact 1740, had 2 months of mean temperatures below 0c in the Midlands and Southern England, the only other known instances of this happening coming in December 1878, and January 1879.
Serious snowfall events happen rarely, but when they come, the UK normally isn't prepared!
Winter 1947 Courtesy O.Bullock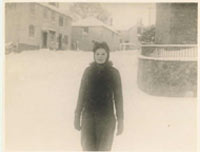 One such winter was 1947. From January 22nd to March 17th, snow fell every day, somewhere in the UK! The snow accumulated quickly, causing real problems. The temperatures rarely rose more than a degree or 2 above 0! Several of these snowfalls where of 60cm or more, and depths of level snow amazingly reached 1.5m (150cm) in Upper Teesdale and the Denbighshire Hills. Across the UK drifts of more than 5 metres in depth blocked roads, and affected traffic. The armed services were brought in, to drop supplies to people in danger, trapped in their homes due to blocked roads and railways.
The strangest thing about 1947, was the first part of the winter was very mild, with only 2 failed cold spells…The weather in fact, turned unseasonably mild for a time. On the 15th January, the temperature in Leeming, North Yorkshire, didn't fall below 11.7c, and rose to 14c the next day in parts of Norfolk, Herefordshire, and Flintshire. This soon changed.
An area of High Pressure transferred north, from France, on January 18th. Two days later, the anticyclone was centred over North -West Norway. It then drifted South -East to Southern Scandinavia, and dominated the UK weather for the rest of the month. The first frost came on the 20th, and the first snowfall on the 23rd, where heavy snow was recorded in the South West of England, even the Scilly Isles. Many villages became cut off and isolated.
Winter 1947 Courtesy O.Bullock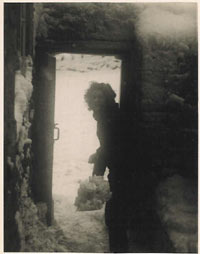 The cold and snowy weather continued. Any breaks lasted very little time, before the next onslaught.
Here are some observations from the Met-Office taken at the time:
On no day in February 1947 did the temperature at Kew Observatory top 4.4C, and only twice in the month was the night minimum temperature above 0C.
The mean maximum temperature for the month was 0.5C (6.9C below average) and the mean minimum was -2.7C (4.6C below average).
On 26 of the month's 28 days, snow was lying at 0900 UTC
South of a line from The Wash to the River Dee, mean maximum temperatures were everywhere more than 5.5c below average and, in some places, more than 7C below average.
Mean minimum temperatures were more than 4C below average everywhere in the south and south-west of England, and almost 6C below average in some places.
February 1947, was the coldest February on record in many parts of the UK, and has been compared with 1814 (January) for its persistent snowfalls, combined with low temperatures.
An interesting observation of the UK in the winter of 1947, shows the lack of Sun in Southern parts, and the huge amount in Western Scotland, which was unusually sunny. At Kew, Nottingham and Edgbaston, there was no sun on 22 of the month's 28 days. Hardly anywhere in the Midlands and Southern England, did the sunshine totals exceed 40% of the average. When the skies did clear though, things became decidedly nippy! A minimum of -21c was recorded in Woburn (Bedfordshire), early on the 25th of February. Without the cloud, the month would have been much colder, more particularly at night.
March 1947 was also bad, with gales and heavy snow early on. 5 metre drifts where reported. In the Scottish Highlands, drifts of 7 metres where reported. Meanwhile, in the SouthWest, much milder air, above freezing, pushed NorthEast, bringing a thaw and heavy rain. Flooding was widespread. The frozen ground just prevented melt water from sinking into it, and so it lay on the surface, causing chaos. Deepening depressions forced in off the Atlantic, with gusts of wind up to 90 knots reported in Southern England. Buildings sustained bad damage, and waves were blown in shore.
Eventually the floods subsided, but the devastation remained. A memorable winter.
Now, the coldest winter since 1740 (mentioned above) yes, 1963. Probably the worst winter of the last 100 years.
Anticyclones to the North and East of the UK, brought bitterly cold air over us. Depression tracked to the South, brining huge snowfalls to England, Wales, and Scotland. Mean maximum temperatures for January 1963 were more than 5c below average over most of Wales, the Midlands and Southern England, and in some places, an amazing 7c below average!!!!!
The winter began, just before Christmas 1962. The weather in early December was changeable and stormy. London experienced terrible fog, for a time. Gusts of up to 88 knots were recorded in the North of the UK.
Winter 62/63 Courtesy O.Bullock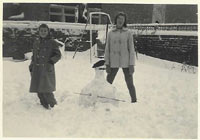 A belt of rain over the North of Scotland turned to snow as it moved South, giving Glasgow its first white Christmas since 1938! When the snow belt reached the South, it became almost stationary. 5cm of snow fell in the Channel Islands, 30cm in Southern England.
A blizzard over South West England, and South Wales (Yes!!! We did get snow once! ) in late December, brought snowdrifts 6m deep. It wasn't a laughing matter anymore. Villages were cut off, power lines where drought down, trains were cancelled. Farmers couldn't reach livestock, and many starved to death. Extremely tragic. From Boxing Day 1962 to early March 1963, much of England was under snow continuously, an amazing feat, 3 months of snow.
Even so, the UK was generally sunny, unlike 1947. In fact sunshine totals were above average for many.
1963 will be remembered more for its coldness, and less so its snowfall. 1947 the opposite, remembered for its snow, less its coldness. Nonetheless both were very cold and very snowy, and hazardous to life. For once, snow wasn't just fun and games.
In January 1963, there were 25 or more air frosts almost everywhere in southern England and South Wales! Mean maxes were below 0c in much of England and Wales, for January, and slightly higher during February. Braemar recorded a low of -22.2c on the 18th of January! Surpassed by 1995 interestingly!
The thaw eventually came, and there was flooding, but not on the scale of 1947. Temperatures returned to normal, as did lives, but noone will ever forget either 1947 or 1963, they will remembered as the 2 snowiest/coldest winters, for many years.
Thanks to the Met-Office for much needed stats, charts, and facts!
From Wikipedia
The winter of 1946–1947 was a harsh European winter noted for its effects in the United Kingdom. The UK experienced several cold spells, beginning on 21 January 1947, bringing large drifts of snow to the country, which blocked roads and railways. Coal supplies, already low following the Second World War, struggled to get through to power stations and many stations were forced to shut down for lack of fuel. The government introduced several measures to cut power consumption, including restricting domestic electricity to 19 hours per day and cutting industrial supplies completely. In addition, radio broadcasts were limited, television services were suspended, some magazines were ordered to stop being published and newspapers were cut in size. These measures badly affected public morale and turned the Minister of Fuel and Power, Emanuel Shinwell, into a scapegoat; he received death threats and had to be placed under police guard. Towards the end of February there were also fears of a food shortage as supplies were cut off and vegetables frozen into the ground.
Mid-March brought warmer air to the country which thawed the snow lying on the ground. This snowmelt ran off the frozen ground straight into rivers and caused widespread flooding. More than 100,000 properties were affected and the Army and foreign aid agencies were forced to provide humanitarian aid. With the cold weather over and the ground thawing there were no further weather problems. The winter had severe effects on British industries with around 10% of the year's industrial production lost, cereal and potato crops down 10 to 20% and a quarter of sheep stocks lost. The ruling Labour Party began to lose popularity, which led to them losing many seats to the Conservative Party in the 1950 election. That winter is also cited as a factor in the devaluation of the pound from $4.03 to $2.80, Britain's decline from superpower status and the introduction of the Marshall Plan to aid war-torn Europe. The effects on the rest of Europe were also severe with 150 deaths from cold and famine in Berlin, civil disorder in the Netherlands and business closures in the Republic of Ireland.
Fuel shortage
[
edit
]
The effects of the cold winter were made worse by problems in the energy sector which caused coal supplies to become low. The coal and electricity industries had been recently nationalised by Clement Attlee's government and put under the control of the Minister of Fuel and Power, Emanuel Shinwell. Shinwell oversaw efforts to increase production, but there were concerns that the coal supply was inadequate. At the start of the winter the coal stockpiles contained enough coal to last for just four weeks, compared to the usual supplies of ten to twelve weeks which existed before the war.[1] However Shinwell allowed himself to be lulled into a false sense of security by over-optimistic productivity reports from the miners' union (NUM).[2] These reports failed to translate into real production as the government feared to take on the NUM, whose members' absentee rates were 2.5 times that of pre-war.[2] The risk of a coal shortage caused the public to buy electric fires to ensure a source of heat for their homes. This, in turn, put a greater strain on the supply of electricity – the monthly demand increase caused by electric fires in 1946 was roughly the same as the annual increase in generating capacity.[1] Shinwell was warned in mid-October 1946 that a coal shortage was possible, but gambled on a mild winter to keep consumption low so that he would not have to risk a confrontation with the miners.[3]
Timeline
[
edit
]
January
[
edit
]
The winter began with two periods of cold weather in December 1946 and January 1947, but the coldest period did not begin until 21 January 1947. The main cause of the cold weather was an anti-cyclone which sat over Scandinavia from 20 January. This high pressure area blocked the progression of low pressure depressions across the Atlantic Ocean and forced them to the south of the United Kingdom resulting in strong easterly winds, which brought snow to Eastern England and South East England before progressing across the entire country. This cold spell continued and by 30 January the Isles of Scilly were under 7 inches or 0.18 metres of snow and the overnight temperature at Writtle, Essex was −20 °C or −4 °F. Throughout January the highest recorded temperature in England and Wales was 14 °C or 57.2 °F and the minimum was −21 °C or −5.8 °F.[4]
February
[
edit
]
The easterly winds continued into February, which developed into one of the coldest months on record. At Kew Observatory there was no recorded temperature above 5 °C or 41 °F for the month and only twice was the overnight temperature above 0 °C or 32 °F. No sunshine at all was recorded at Kew for twenty days from 2 February,[4] whilst across England and Wales the month was the second dullest February since records began in 1929, with only 30.8 hours of sunshine or 1.1 per day[5] – although in contrast West Scotland was near-record dry and unusually sunny[6] though still extremely cold. On 20 February the ferry service across the English Channel between Dover and Ostend was suspended due to pack ice off the Belgian coast.[7] In some places snow fell on 26 days out of 28 in the month and a temperature of −21 °C or −5.8 °F was recorded at Woburn, Bedfordshire on 25 February.[4] As a result, railways were badly affected by drifts of light powdery snow and three hundred main roads were made unusable.[4][8] Several hundred villages were cut off.[9] ice floes were also seen off the coast of East Anglia, causing a hazard to shipping.[8]
This cold weather exacerbated the fuel problem. Stockpiles of coal at the pits and depots froze solid and could not be moved.[8] The stockpiled coal was often unavailable with roads out of use and 750,000 railway wagons of coal trapped by the snow.[3] Desperate attempts were made to get fuel to power stations by coal-carrying ships which risked storms, fog and ice to reach their destination.[7] A force of 100,000 British and Polish troops and German PoWs were put to work clearing snow from the railways by hand.[3] Despite this, lack of fuel forced many power stations to shut down or reduce their output.[8] The Royal Navy launched Operation Blackcurrant, which used diesel generators aboard submarines to provide supplementary power to coastal towns and dockyards.
Shinwell acted to reduce consumption of coal by cutting the electricity supply to industry completely and reducing the domestic supply to 19 hours per day across the country.[3][7] In consequence factories across the country were forced to shut and up to four million people claimed unemployment benefits.[8][10] Although so many people were made redundant there was little unrest and no major public disorders.[3] Television services were suspended completely, radio broadcasts were reduced, some magazines were ordered to stop being published, and newspapers were cut in size to four pages or one sheet.[3][7] Food rations, still in use from the Second World War, were cut to levels lower than in the war years.[7] These measures made little difference to the rate of coal consumption but served to reduce public morale.[7]
Despite Shinwell's actions the fuel supply remained insufficient and blackouts occurred across large swathes of the country with even the staff at Buckingham Palace, the Houses of Parliament and London's Central Electricity Board reduced to working by candlelight.[3][10] A trade meeting with representatives from Russia and Iceland was also forced to meet without light or heat, ironically one of the items discussed was the purchase of coal from Britain.[3] The public was reduced to queuing at gasworks to collect coke for use as fuel.[9] Supplies of aspirin also ran low as it was then a product of coal-tar, thousands of chickens in poultry farms died of the cold, and public transport services were cut to save fuel. Shinwell became increasingly unpopular with the general public and received a bomb threat which resulted in him having to be guarded at his house in Tooting by four policemen.[3] Despite this, he remained very popular with the miners, which made the government wary of firing him in case it caused industrial action. By 27 February sea conditions had improved and more than 100 coal ships had managed to unload their cargoes at the power stations, easing the fuel crisis.[3]
During this period there was a fear that, despite the rationing, food supplies could run out, and several measures were taken to prevent this. This was due to the effects of the cold on vegetables, livestock and delivery vehicles. The government started a campaign to popularise Snoek, an inexpensive South African variety of fish. This campaign was largely unsuccessful as the public found the fish unpalatable and the stocks of it were eventually used as cat food.[7] Many winter root vegetables could not be harvested as they were frozen into the ground, and in some areas pneumatic drills were used to excavate them.[7] Frost destroyed 70,000 tons of potatoes and, as a result, potatoes were rationed for the first time.[7]
On 4–5 March came heavy snow which left drifts across much of the country with some lying 7 metres (23 ft) deep in the Scottish Highlands.[4] On 5 March one of the worst British blizzards of the 20th century occurred.[7] Food supplies were again affected by the snow-bound roads and in some places the police requested permission to break into delivery lorries stranded by the snow.[7]
On 10 March milder air of 7–10 °C began to move north across the country from the south west, rapidly thawing the snow lying on low ground.[4] After such a long frost the ground stayed frozen, causing much surface run off which resulted in widespread flooding. Further heavy snowfalls occurred as the milder air pushed northwards. On 14 March the deepest ever recorded depth of snow lying in an inhabited location was measured at Forest in Teesdale in County Durham at 83″ or 211 cm. On 15 March a deepening depression moved in from the Atlantic, bringing heavy rain and gales.[4] It was the start of the wettest March for 300 years.[10] By 16 March winds reached 50 knots (90 km/h), gusting to 90 knots (170 km/h), causing breaches in dykes in East Anglia resulting in the flooding of 100 square miles (260 km2) of land,[4][7] and blowing many trees down. The River Thames and the River Lea flooded in London causing the Windsor borough engineer Geoffrey Baker to remark "We could only cope if we had a spare Thames, or two".[9]
On 17–18 March the River Trent which had been rising ever higher, overtopped the riverbanks in Nottingham. Large parts of the city and surrounding areas were flooded with 9,000 properties and nearly a hundred industrial premises affected some to first floor height. The suburbs of Long Eaton, West Bridgford and Beeston all suffered particularly badly.[4][11][12] Two days later, in the lower tidal reaches of the river, the peak of the flood combined with a high spring tide to flood villages and 2,000 properties in Gainsborough. River levels dropped when the floodbank at Morton breached, resulting in the flooding of some 77 square miles (200 km2) of farmland in the Trent valley.[13] The flooding subsided in the west of the country by 20 March but rivers in the east were still rising and the Wharfe, Derwent, Aire and Ouse all burst their banks in the West Riding of Yorkshire.[4] Selby was also badly affected with 70% of houses being flooded. More than 100,000 properties were affected by the flooding and the Army worked to prevent the spread of the floodwater, particularly at pumping plants and power stations.[4][9] Royal Engineers on national service handed out milk to families with babies and the Australian Red Cross assisted in Gloucester. The people of Canada sent food parcels to villages in Suffolk and the Premier of Ontario, George A. Drew, offered to help to distribute them personally.[9] The flooding lasted for about a week, with some waters taking an additional ten days to subside.[9]
The winter had a lasting effect on Britain's industry; by February 1947 it was already estimated that that year's industrial output would be down by 10 percent.[3] The effects of the March floods added a further £250–375 million (£8.74–13.1 billion in 2015)[14] in damage.[9] Farming was particularly badly hit with cereal and potato harvests down 10–20 percent on the previous two years. Sheep farmers lost one quarter of their flocks and it would be six years before sheep numbers recovered.[10] The winter also had political ramifications and caused the public to lose faith in a Labour government who could not maintain food and electricity supplies. An example of this emerged when, at Mary Churchill's wedding on 11 February, her father, Winston Churchill was cheered by the crowd but prime minister Clement Attlee was booed.[3] Emmanuel Shinwell, unpopular with the public, was made a scapegoat and sacked from his ministerial position.[15] Despite this, the winter is cited as a factor in Labour's loss of a large number of seats to the Conservative Party led by Churchill in the 1950 election.[7]
The effects of the winter came at a time of heavy government spending with 15% of the GDP being spent on the armed forces and large expenditure on the new National Health Service and post-war reconstruction.[7] This made the currency less stable and, coupled with the emergence of the dollar as the currency of choice for foreign reserves, led to the government slashing the Bretton Woods official exchange rate from $4.03 to $2.80.[7] This was a major event in Britain's decline from superpower status. With the country struggling to feed its people at home and those it was responsible for in war-torn Europe, it also caused the US to take a greater interest in Europe and push through the Marshall Plan for assistance to Britain and the continent.[7] In addition, the winter is cited as the reason for the emigration of thousands of British people, particularly to Australia.[16] The winter as a whole was less cold than the winter of 1963 but more snow was recorded.[10]
Outside the United Kingdom
[
edit
]
The winter affected many other European countries. Similar cold periods and snowfalls were seen in much of Central Europe and the southern Baltic region. De Bilt, near Amsterdam in the Netherlands, experienced its worst winter since 1790. Because of the anticyclone to the north of the United Kingdom several incoming Atlantic depressions which would normally have hit Britain were forced south to the Mediterranean region, resulting in Portugal, Spain and Southern France having more rain than usual while remaining relatively warm. For example, the February rainfall at Gibraltar was 9.3 inches (240 mm), three times the average. As a result, France experienced both the extreme cold in the north, and much rain in the south.[10] The winter caused 150 deaths from the cold and lack of food in Berlin, which was still recovering from its devastation during the final stages of the Second World War. It forced schools in the Netherlands to shut, led to a mob attack on a goods train carrying coal in Copenhagen, and caused the closure of businesses and the restriction of domestic gas supplies in the Republic of Ireland.[3]