Every Saturday in the run up to New Year, I thought it might be good to take a step back in time and relive some of our very worst, most extreme winters of the last 100 years.
The brutal winter of 1962-63 will be long remembered as one of the worst.
Take a look at this amazing 58 minute account of this cruel winter.
An excellent and detailed account below from UKWeatherWorld
Source: http://www.ukweatherworld.co.uk/forum/index.php?/topic/49432-the-severe-winter-1962-63-a-special-report-with-times-articles/
The winter of 1962-63 is the third coldest winter ever recorded.
December began with an anticyclone near the UK and this gave cold frosty, foggy conditions. There was a fear of a repeat of what happened during early December 1952 when thick smog was believed to have  killed thousands but fortunately it was not on the same scale
The weather bcame more unsettled and milder mid month as lows moved in from the Atlantic
Although, there was a short cold blast on the 13th
It wasn't until the 23rd that the real intense cold started
Christmas Day 1962 was a white Christmas across Scotland largely and this spread to northern England later in the day.
A frontal system moved into Scotland during Christmas Day and this brought rain to places but with snow over higher ground.
The rain increasingly turned to snow over lower ground as it pushed through Scotland and there was a covering.
The snow had set in across northern England by the end of the day. Further south it was bitterly cold with sub zero maxima, it wasn't until Boxing Day that the snow arrived here but when it did it,it snowed for many hours. Depths of snow approached two and a half feet in places
A new low pushed into the Bay of Biscay and this gave strong easterly winds and heavy drifting snow to the south adding to the depths of snow that had already fallen.  Conditions were very severe with blizzards, whiteout conditions and numerous roads became impassable because of huge drifts
Into the start of January, the cold easterly flow continued with low pressures to the south bringing further snowfalls to the south although the intensity of the cold was lost somewhat by the 4th in the south and the snow turned to rain in places, even freezing at times
A fresh pool of very cold air poured into NE parts on the 7th and the intensity of the cold increased
The intensity of the cold was to wax and wane as fresh pools of cold Arctic air was directed by the Greenland block and Atlantic air trying to push in, the 12th was a particularly cold as a blast of Arctic air poured in from Scandinavia
Frosts were severe with -16C being recorded at Gatwick and Shawbury recording a maximum of just -7C in
freezing fog. Snow showers fell in places exposed to the wind flow.
The block pulled out of Greenland and moved into Scandinavia with clear skies and calm conditions across Scotland and this made the night of the 18th  especially cold night with -22.2C at Braemar.
Further south, the gradient intensified on the 19th and it was a bitterly cold with sub zero maxima and heavy snow showers. Yet again, there was further drifting.
The high pressure became centred over the south of the UK and with a snow cover and calm conditions, nighttime minima were very low in the south. -20.6C at Stanstead Abbots on the 23rd, the record minimum for that date.
The mildest day of January 1963 widely  was  the 26th as less cold air moved around the high centred near Ireland as a system pulled into Scandinavia.
The less cold interlude was shortlived however as the high pulled towards Greenland and a new Arctic blast poured down from the north
February continued the very cold theme with fresh pools of Arctic air pulled around the block around Iceland and Greenland.
A low pressure moved down on the flow and intensified to the west of the UK bringing strong southerly winds, heavy snow and blizzards to a number of western areas. Some areas had a huge snowfall with as much as 5 feet in parts of Gwent and 1.6ft at Belfast.
Milder air was attempting to come into the south as February progressed and this gave occasional thaws here but the cold continued unabated further north
There were further snowfalls as Atlantic systems try to push in but again the cold maintained its grip
During the last few days of February, high pressure started to assert itself and although frosts remained sharp the intensity of the cold was losing its grip during the day and a slow daytime thaw occurred.
By the 6th of March, the frosts ended and the great  winter of 1962-63 finally ended. By this stage a number of places have had continous snow cover since December 26th
Data for Winter 1962-63
December 1962:  1.8 (-2.9)
January  1963: -2.1 (-5.5)
February 1963: -0.7 (-4.7)
January 1963 is the 5th January coldest on record
February 1963 is 7th coldest February on record
The first half of December: 3.1
The second half of December: 0.6
The first half of January: -1.6
The second half of January: -2.6
The first half of February: -0.8
The second half of February: -0.6
The mean CET max for winter: 2.5
The mean CET min for winter: -3.1
23rd December-19th February: -1.6
Coldest spells of the winter
2nd-6th Dec 1962: -1.1
23rd Dec 1962-3rd Jan 1963: -2.4
7th-26th Jan 1963: -3.6
1st-7th Feb 1963: -2.1
16th-20th Feb 1963: -0.7

The coldest CET maximum day: -3.6C  23rd/24th January
The coldest CET minimum night: -13.2C  23rd January
The mildest CET maximum day: 12.6C  15th December
It was a very sunny winter. For England and Wales, it recorded over 200hrs, for Scotland it was
the sunniest winter ever recorded and just over 170hrs for Northern Ireland.
For the UK as a whole, it was a dry winter generally.
Data for January 1963
STORNOWAY
Mean Max: 4.5 (-2.1)
Mean Min: 0.4 (-2.2)
Highest Max: 7.3 (25th)
Lowest Min: -7.2 (12th)
Days with lying snow: 3
Days with falling sleet/snow: 12
RENFREW
Mean Max: 2.6  (-3.2)
Mean Min: -2.7 (-4.0)
Highest Max: 8.8 (26th)
Lowest Min: -13.8 (13th)
Days with lying snow: 1
Days with falling sleet/snow: 12
TYNEMOUTH
Mean Max: 2.6 (-3.6)
Mean Min: 0.1 (-2.5)
Highest Max: 5.9 (26th)
Lowest Min: -6.2 (23rd)
Days with lying snow: 8
Days with falling sleet/snow: 18
MANCHESTER
Mean Max: 0.8  (-5.3)
Mean Min: -3.6 (-4.9)
Highest Max: 5.0 (26th)
Lowest Min: -10.2 (13th, 24th)
Days with lying snow: 22
Days with falling sleet/snow: 14
ELMDON
Mean Max: -0.1 (-6.3)
Mean Min: -5.5 (-7.1)
Highest Max: 4.3 (26th)
Lowest Min: -16.0 (23rd)
Days with lying snow: 31
Days with falling sleet/snow: 16
KEW
Mean Max: 0.6  (-6.1)
Mean Min: -2.7 (-5.5)
Highest Max: 5.5 (26th)
Lowest Min: -9.7 (25th)
Days with lying snow: 27
Fays with falling sleet snow: 21
BELFAST
Mean Max: 1.9  (-4.5)
Mean Min: -2.9 (-5.0)
Highest Max: 5.0 (26th)
Lowest Min: -10.6 (23rd)
Days with lying snow: 8
Days with falling sleet/snow: 19
Photos
December 1962
http://tonywray.supanet.com/pics/snow3.jpg
http://tonywray.supanet.com/pics/snow2.jpg
http://www.icons.org.uk/library/stock-images/routemaster/0761956.jpg
January 1963
http://www.bbc.co.uk/gloucestershire/weather/2003/12/gallery/bagpath_snow_1963_320.jpg
http://www.mkheritage.co.uk/cv/images/winter/s32.jpg
http://www.mkheritage.co.uk/cv/images/winter/s6.jpg
http://www.norfolkmills.co.uk/images/Oxnead%20Jan1963.jpg
http://www.thamesweb.co.uk/windsor/windsorhistory/images/isis63_2.jpg
http://lancingvillage.co.uk/History/portslade/oldvillage/images/village-7.jpg
February 1963
http://www.mkheritage.co.uk/cv/images/winter/s20.jpg
http://www.mkheritage.co.uk/cv/images/winter/s10.jpg
http://www.alangeorge.co.uk/Images4-A-H/Cwmbargoed_OnTheRailwayCrossing_1963_JohnHumphries_DerekEvans.JPG
http://www.watercressline.co.uk/tw/pics/nkcp1962.jpg
http://www.hemelhempsteadtoday.co.uk/mk4custompages/getimage.aspx?imageID=3617
Here's from the 27th December 1962 edition of the Times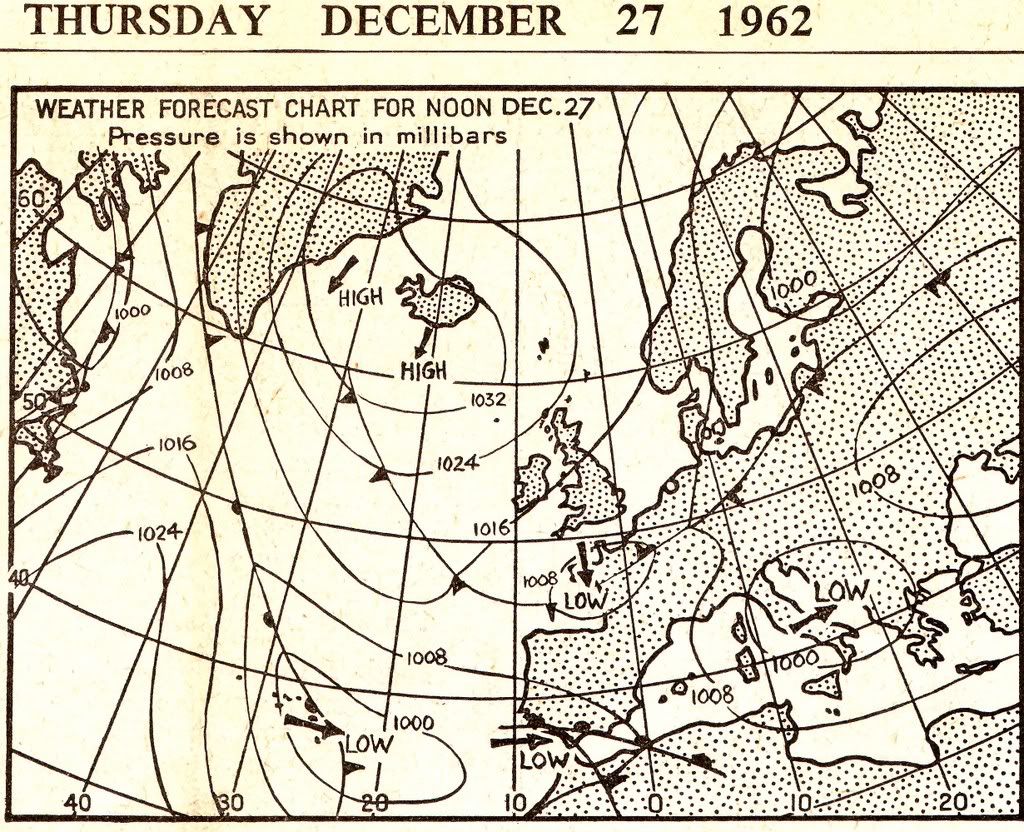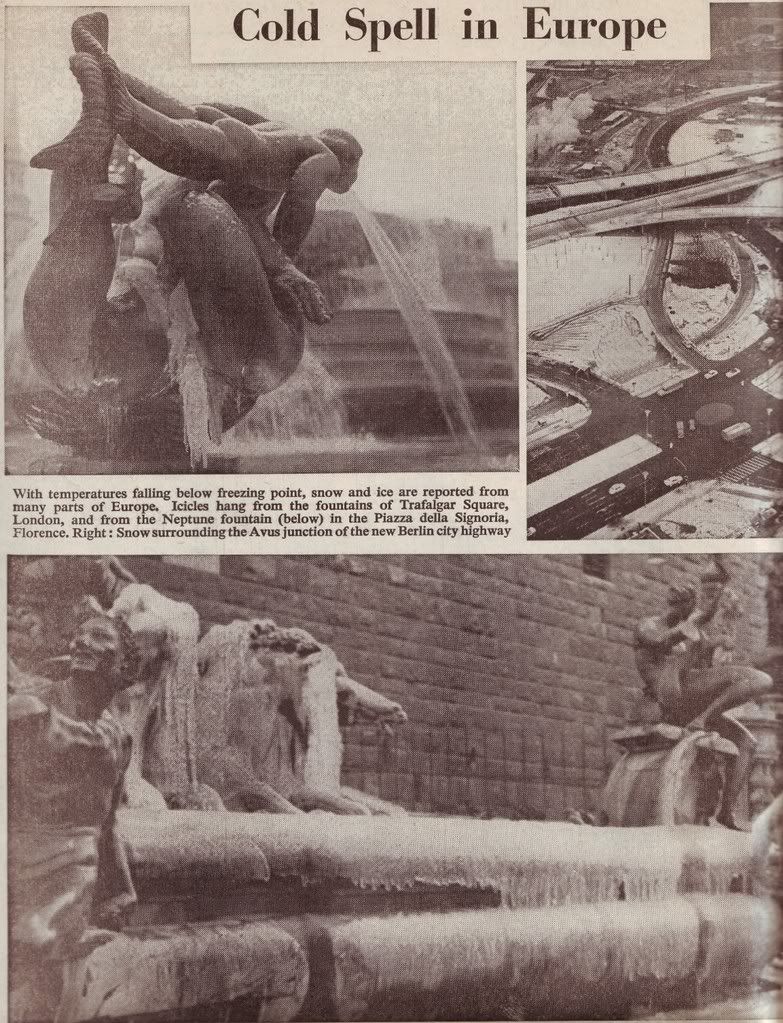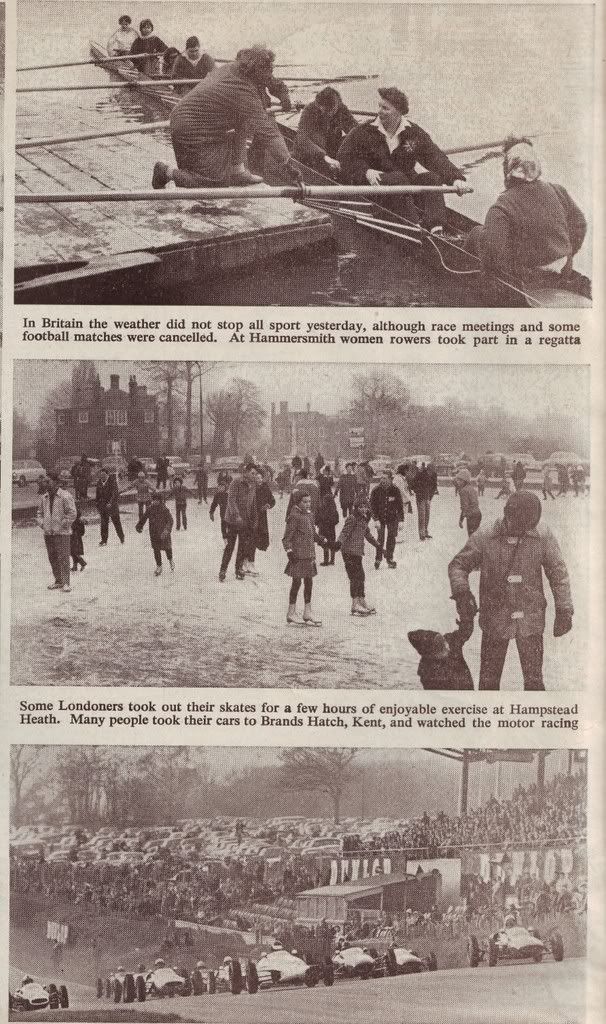 ---
Posted —
From the 28th December edition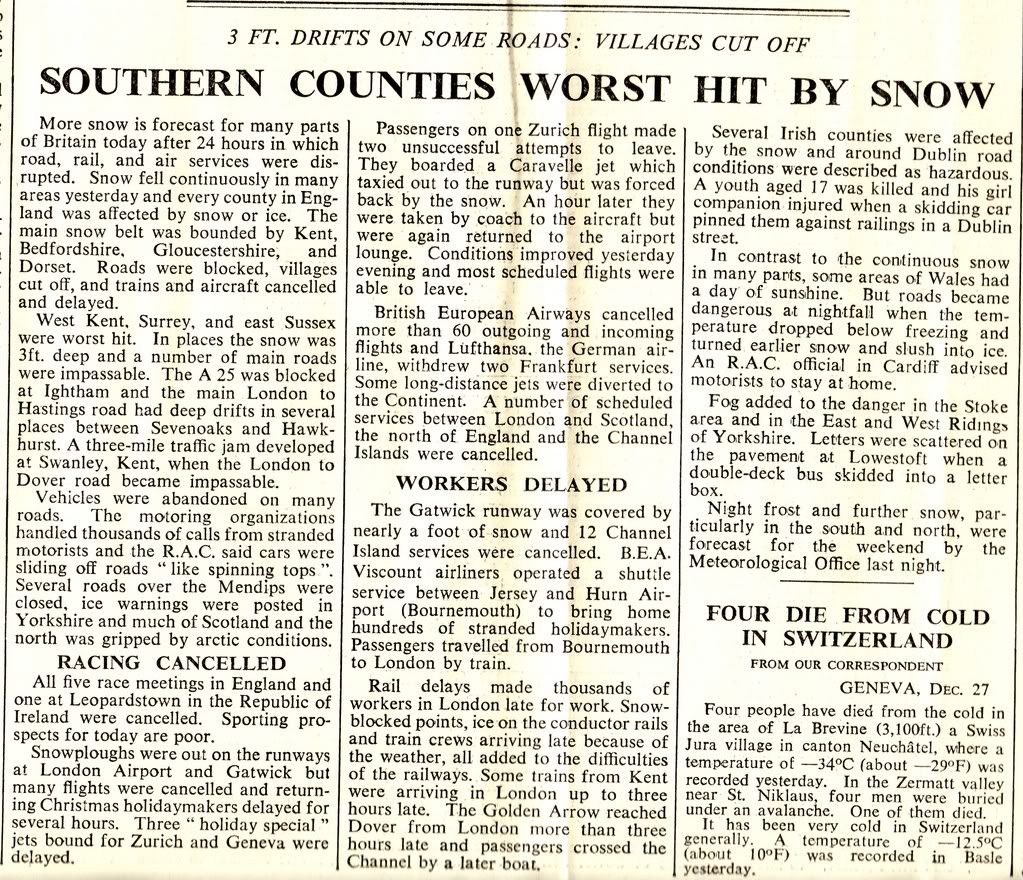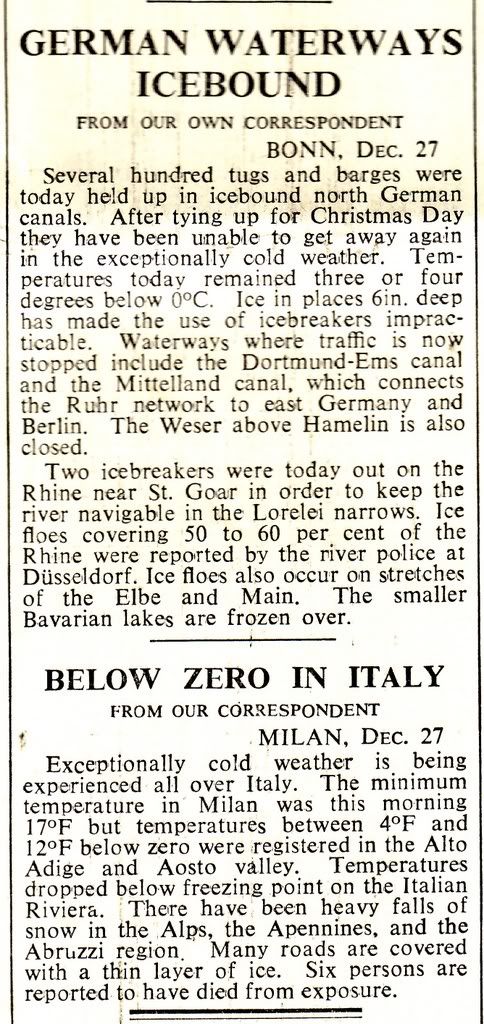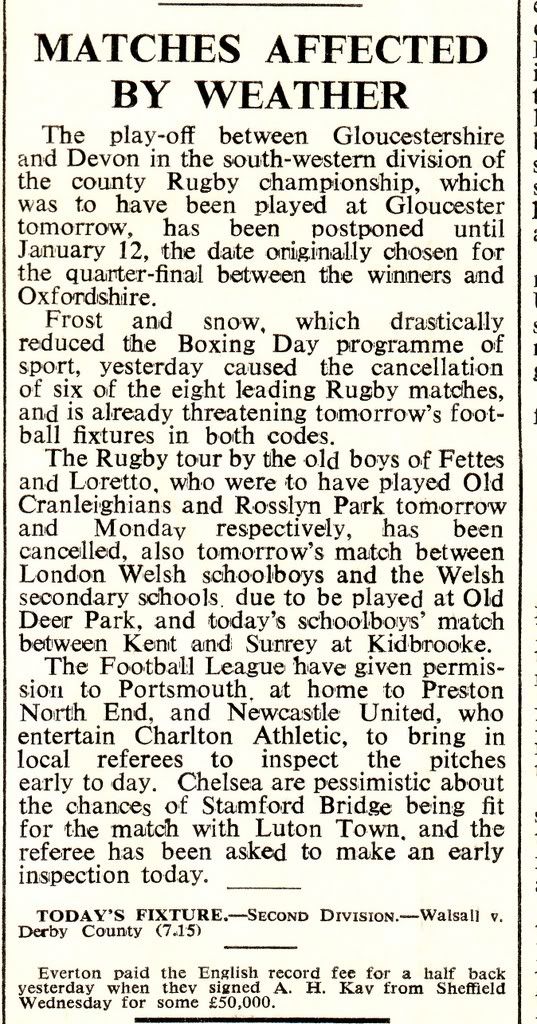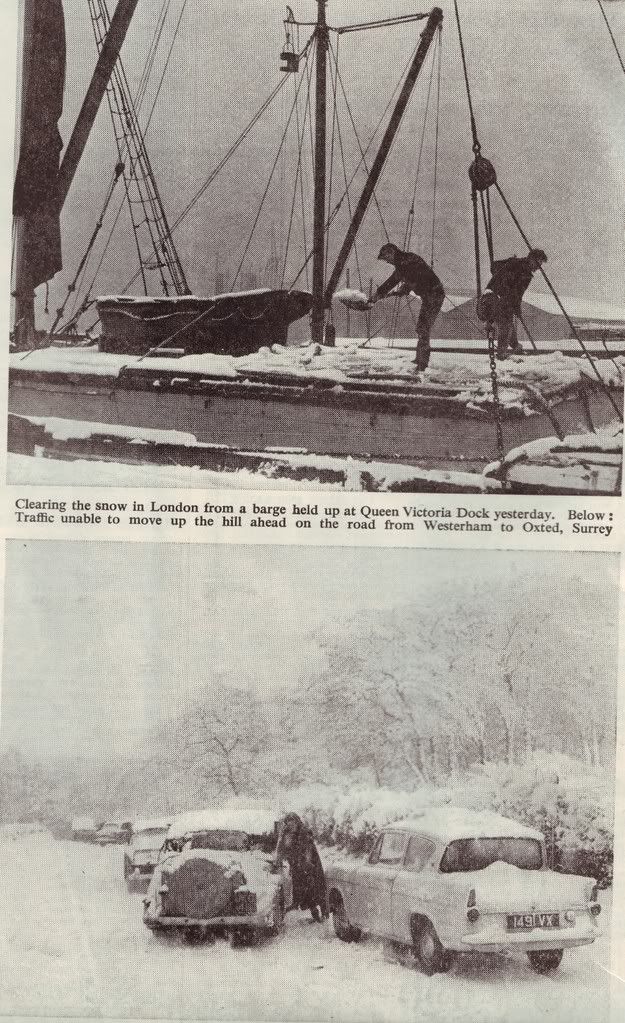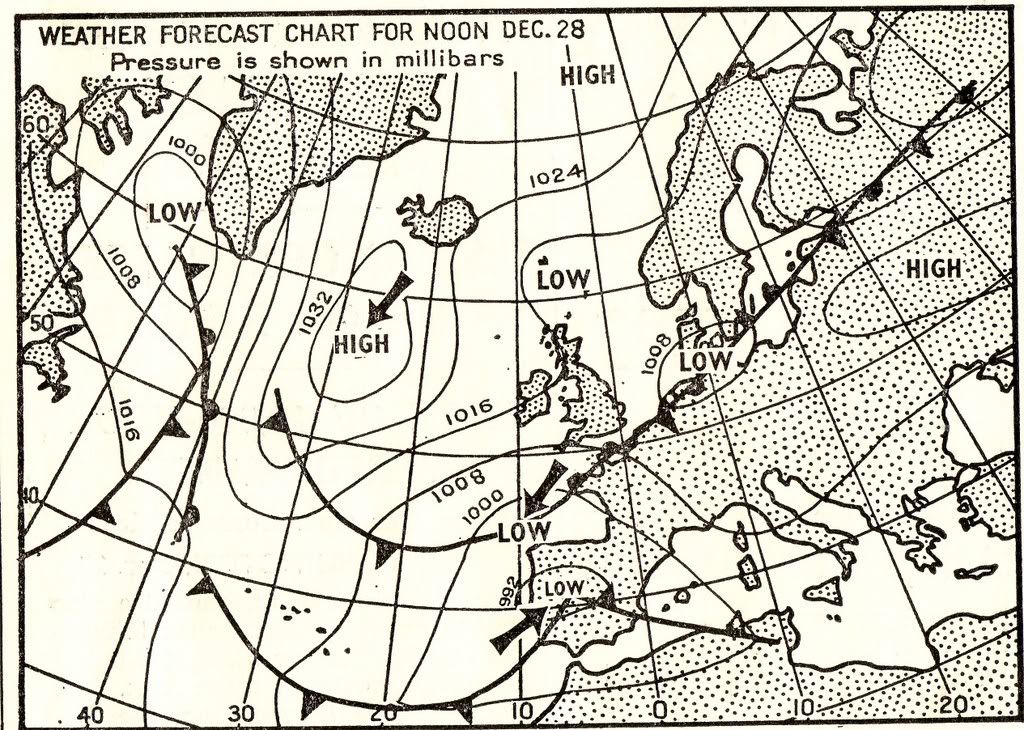 ---
Posted —
From the New Year's Eve edition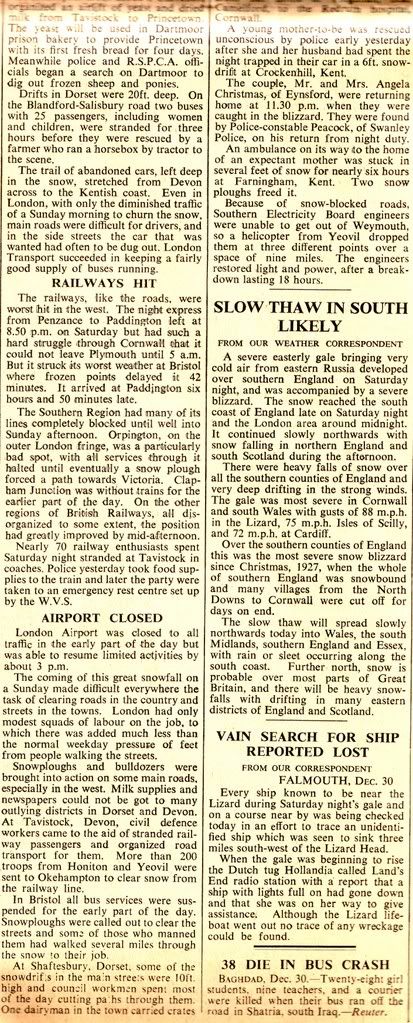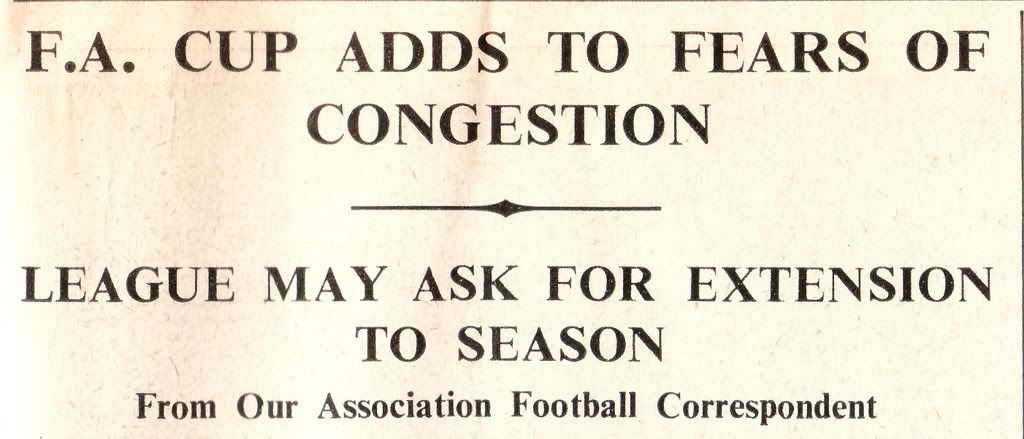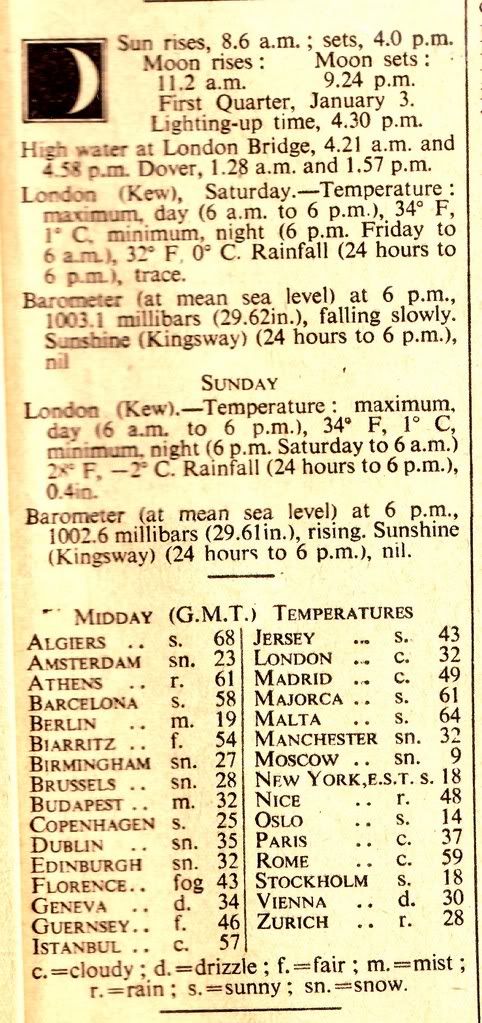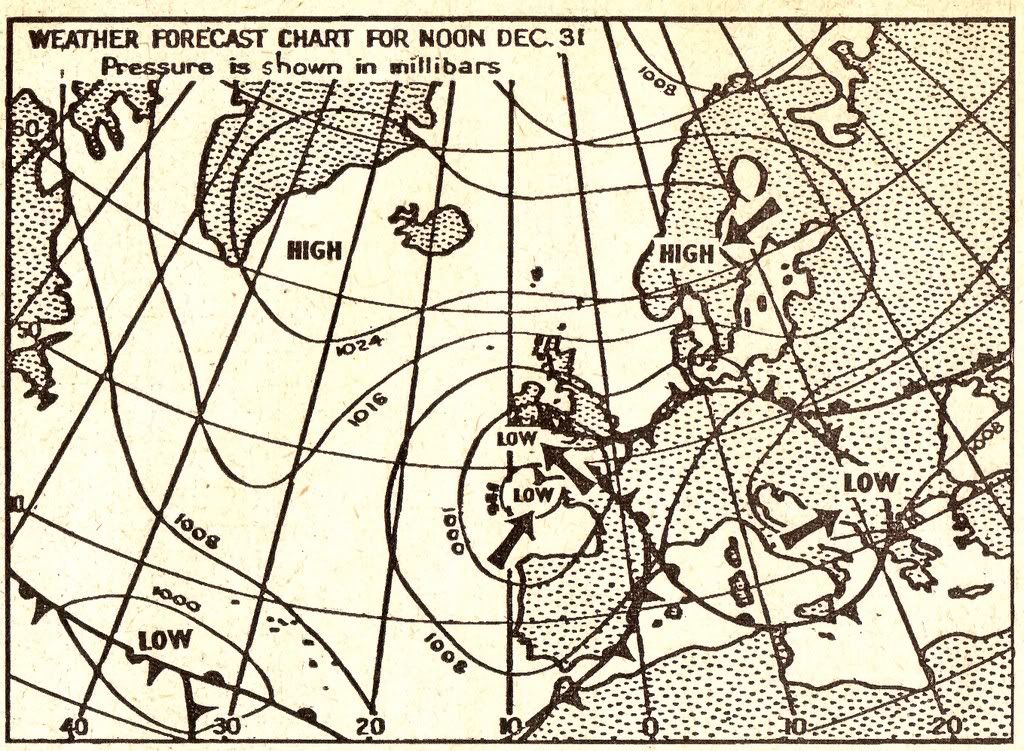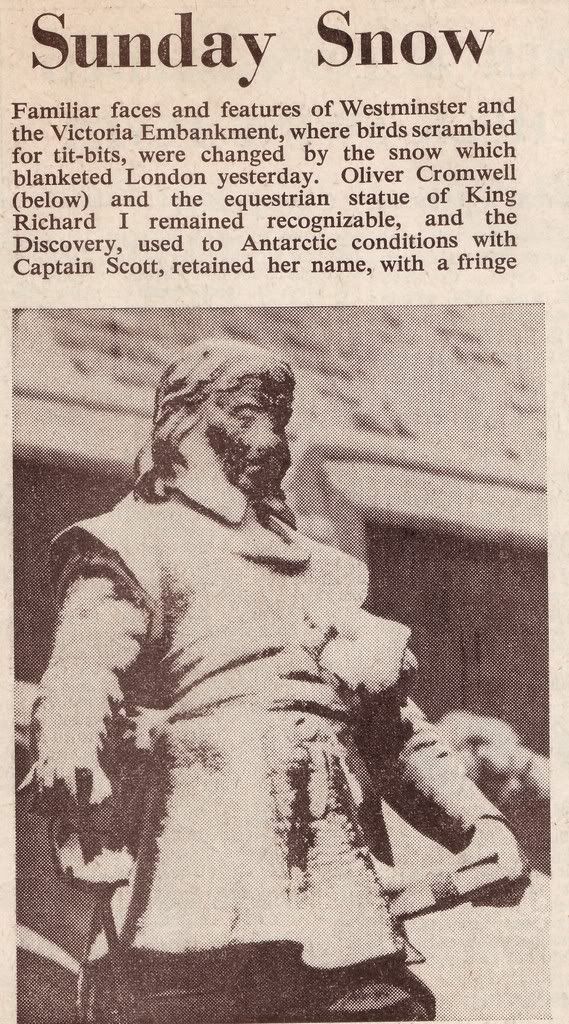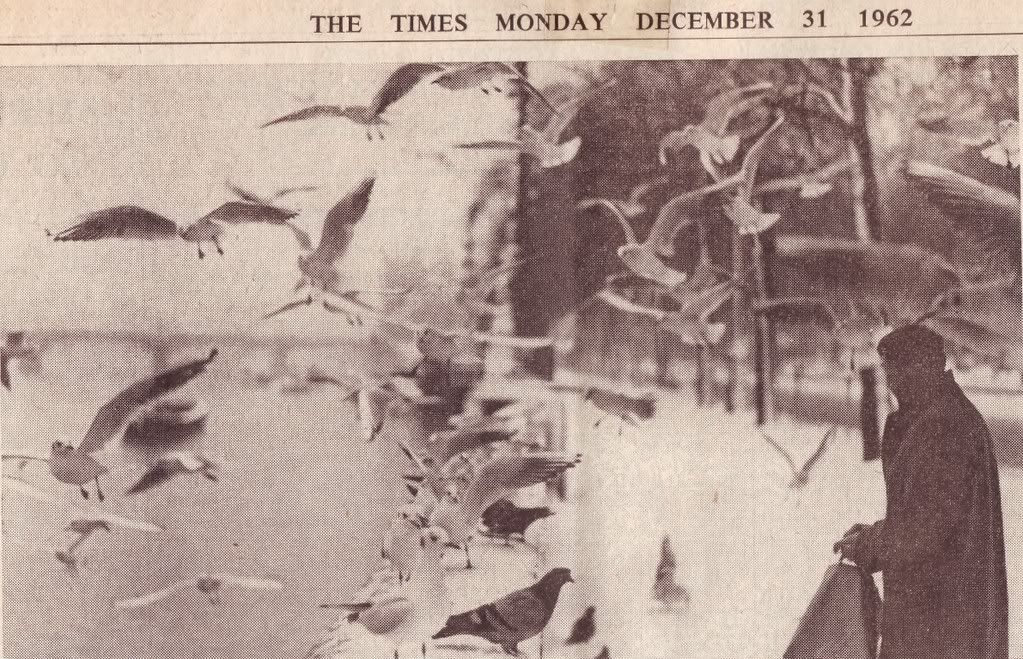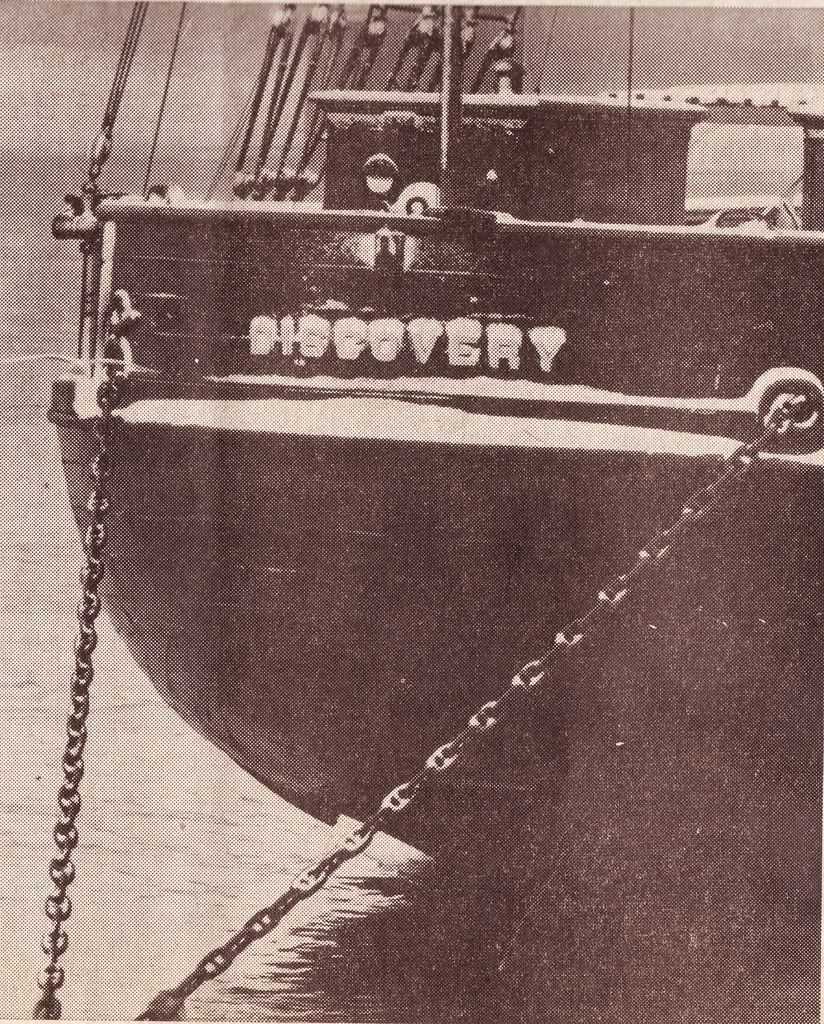 ---
Posted —
Here's a short report on January 1963 from the 1st of February 1963 edition of the Times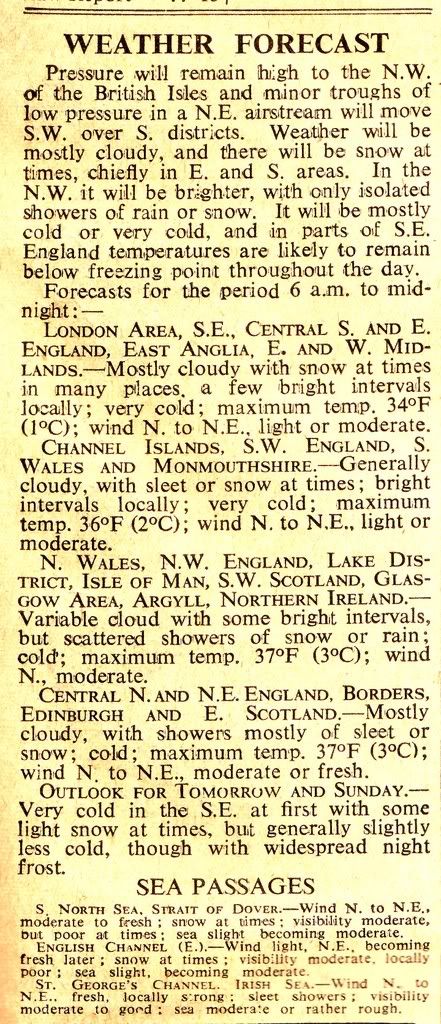 From Wikipedia
The winter of 1962–1963 (also known as the Big Freeze of 1963) was one of the coldest winters on record in the United Kingdom.[1] Temperatures plummeted and lakes and rivers began to freeze over. In the Central England Temperature (CET) record, extending back to 1659, only the winter (defined as the months of December, January and February) of 1683–84 has been significantly colder, with 1739–40 being slightly colder than 1962–63. However, the winter did not rank so highly in Scotland for its severity as it did in England and Wales.
December 1962
[
edit
]
The beginning of the month was very foggy, with London suffering its last great smog before clean air legislation and the reduction in the use of coal fires had their full effect. A short wintry outbreak brought snow to the country on 12th-13th. A very cold easterly set in on 22 December as an anticyclone formed over Scandinavia, drawing cold continental winds from Russia. Over the Christmas period, the Scandinavian High collapsed, but a new one formed near Iceland, bringing Northerly winds. Significant snowfall occurred as the air mass moved south and parts of the South of England in particular had heavy snow late on 26 December (Boxing Day) continuing into 27 December.[2] The cold air became firmly established.
29–30 December 1962
[
edit
]
On 29–30 December 1962 a blizzard swept across the South West of England and Wales. Snow drifted to over 20 feet (6.1 m) deep in places, driven on by gale force easterly winds, blocking roads and railways. The snow stranded villagers and brought down powerlines.[2] The near-freezing temperatures meant that the snow cover lasted for over two months in some areas. Snow lay to 6 inches (0.15 m) depth in Manchester city centre, 9 inches (0.23 m) in Wythenshawe, and about 18 inches (0.46 m) at Keele University in Staffordshire. By the end of the month, there were snow drifts 8 feet (2.4 m) deep in Kent and 15 feet (4.6 m) deep in the west.
January 1963
[
edit
]
January 1963 was the coldest month of the twentieth century, indeed the coldest since January 1814, with an average temperature of −2.1 °C (28.2 °F).[3] Much of England and Wales was snow-covered throughout the month.[2] The country started to freeze solid, with temperatures as low as −19.4 °C (−2.9 °F) at Achany in Sutherland on the 11th. Freezing fog was a hazard for most of the country.[4]
In January 1963 the sea froze for 1 mile (1.6 km) out from shore at Herne Bay, Kent.[5][6] The sea also froze inshore in many places, removing many British inland waterbirds' usual last resort of finding food in estuaries and shallow sea. The sea froze 4 miles out to sea from Dunkirk, and BBC television news expressed a fear that the Strait of Dover would freeze across.[2] The upper reaches of the River Thames also froze over,[4][7] though it did not freeze in Central London, partly due to the hot effluent from two thermal power stations, Battersea and Bankside: the removal of the old multi-arched London Bridge, which obstructed the river's free flow, and the river embankments, make the river less likely to freeze in London than in earlier times (see River Thames frost fairs). On 20 January 283 workers had to be rescued by RAF helicopters from Fylingdales, where they had been snowbound for several days.[2][8] The ice was thick enough in some places that people were skating on it,[2] and on 22 January a car was driven across the frozen Thames at Oxford.[2][8] Icicles hung from many roof gutterings; some of these were as long as a metre (3 feet, 3 inches).
February 1963
[
edit
]
In February 1963 more snow came. It was also stormy with winds reaching Force 8 on the Beaufort scale (gale force winds).
A 36-hour blizzard caused heavy drifting snow in most parts of the country. Drifts reached 20 feet (6.1 m) in some areas and there were gale force winds reaching up to 81 mph (130 km/h). On the Isle of Man, wind speeds were recorded at 119 mph (191 km/h).
March 1963
[
edit
]
The thaw set in during early March; 6 March was the first morning of the year without any frost anywhere in Britain. The temperatures soon soared to 17 °C (62.6 °F) and the remaining snow rapidly disappeared.
Sports fixtures
[
edit
]
One of the most noticeable consequences of the freezing conditions which hit the UK in the winter of 1962/63 was the enormous disruption to the national sporting calendar. For many weeks football matches in both the English and Scottish leagues suffered because of the severe effects of the winter weather.[1] Several ties in the 1962–63 FA Cup were rescheduled ten or more times, to the point that the 5th and 6th rounds originally scheduled for 16 February and 9 March respectively, were finally played on 16 March and 30 March respectively, with the semi-finals rescheduled from 30 March to 27 April. A board known as the Pools Panel was set up; postponed matches were adjudicated by it, to provide the football pool results. From 8 December to 16 February, Bolton Wanderers played no competitive matches.[9] Both codes of rugby, union and league, suffered much the same fate.[10] All this occurred in the days well before under-soil heating became widespread at major venues. When the thaw arrived, a huge backlog of fixtures had to be hastily dealt with. The Football League season was extended by four weeks from its original finishing point of 27 April, with the final league fixtures taking place one day before the rescheduled FA Cup Final.
National Hunt horse racing was also badly affected, with 94 meetings cancelled during the freeze. There was no racing in England between 23 December and 7 March inclusive, although a meeting at Ayr in Scotland went ahead on 5 January.[11]
References in popular culture
[
edit
]
The winter of 1962–63 is mentioned in The Dream Academy's 1985 hit single "Life in a Northern Town": "In winter 1963 / It felt like the world would freeze / With John F. Kennedy and The Beatles". The last line references the assassination of John F. Kennedy and Beatlemania in the United Kingdom, which both occurred in November 1963 (thus actually in autumn 1963).