Published Oct 13 2016 01:49 PM EDT
Story Highlights
Eye of Nicole is moving away from Bermuda.
This is the strongest hurricane strike on Bermuda since Fabian in 2003.
Destructive winds, heavy rainfall and damaging storm surge flooding will continue.
Only 12 other Category 3 hurricanes have passed near Bermuda since 1899.
Hurricane Nicole is making a direct hit on Bermuda as the strongest hurricane to affect the Atlantic archipelago in 13 years.
(MORE: Interactive Tracker For Nicole)
 A last-hour eastward wobble appeared to spare Bermuda the eastern semicircle of Nicole, typically the location of a hurricane's strongest winds.
However, the eye of Nicole moved over Bermuda midday Thursday and was moving away from Bermuda Thursday afternoon.
Current Storm Information
While Nicole's intensity ticked downward to Category 3 intensity, the impacts will largely remain the same. All Bermuda residents should now be in safe shelter.
Sustained winds topped 75 mph at Pearl Island and at L.F. Wade International Airport where peak gusts of 119 mph and 104 mph have been measured, respectively.
(INTERACTIVE: Wundermap with latest observations)
For perspective, Nicole's large eye, approximately 50 miles wide at one time, was much larger than the width of Bermuda.
Nicole rapidly strengthened to a Category 4 hurricane late Wednesday evening with maximum sustained winds increasing to 130 mph, but has since stepped downward in intensity, thanks to increasing wind shear.
(MORE: Hurricane Central)
Impacts From Nicole
The eyewall of Nicole impacted Bermuda Thursday morning, given that hurricane-force winds extended out 70 miles from the center, while tropical storm-force winds are up to 185 miles from the center. Tropical storm-force winds are expected to persist through Thursday evening.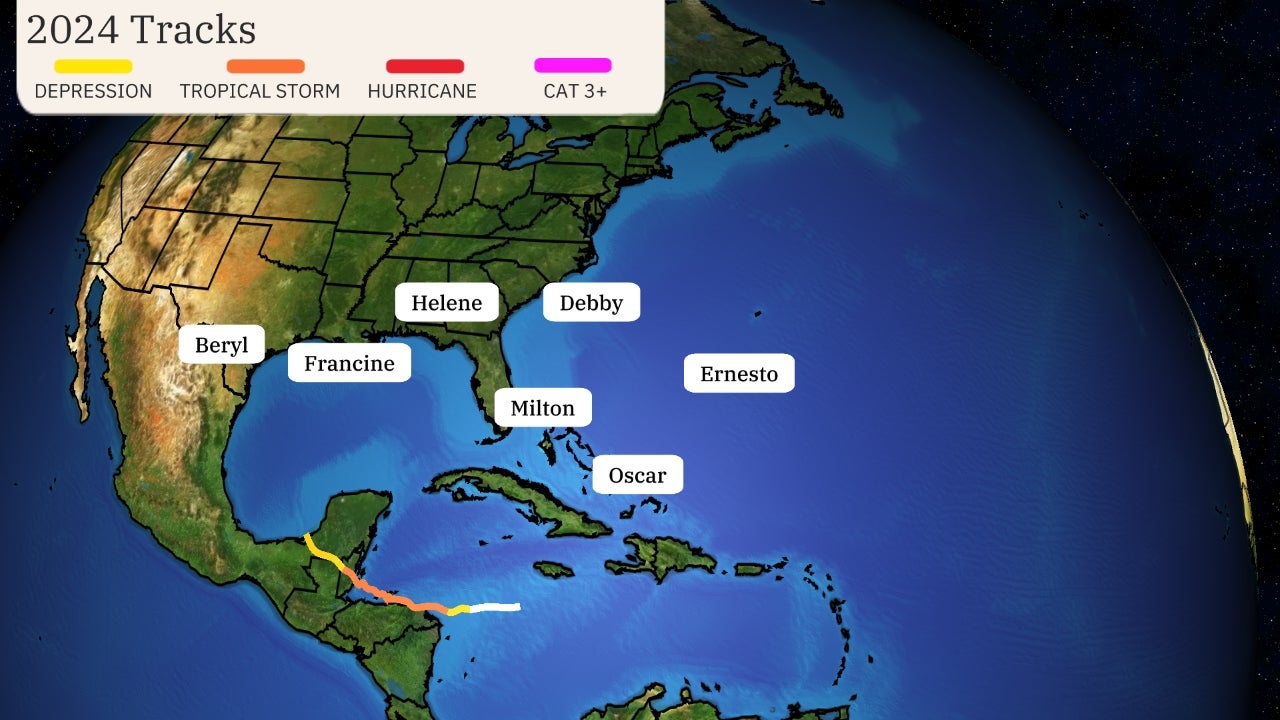 Power outages are already widespread and additional trees will be downed, and structural damage to some buildings will occur.
Nicole's storm surge will push water levels 6 to 8 feet above normal tide levels, the National Hurricane Center says. Large, destructive waves will also pound the coastline.
Rainfall from 5 to 8 inches will only add to the impacts in Bermuda through Thursday evening.
Hurricanes of this intensity passing near Bermuda are exceedingly rare. Only 12 Category 3 hurricanes have tracked within 75 miles of Bermuda since 1899.
Only four October hurricanes have tracked within 50 miles of Bermuda dating back to 1950, according to Dr. Phil Klotzbach, tropical scientist at Colorado State University.
Eric Blake, hurricane specialist at the National Hurricane Center, tweeted Thursday that near-record warm sea-surface temperatures near Bermuda are contributing to Nicole's intensity.
Bermuda's Recent Hurricane History
A yacht was turned upside down and parked on a rock outcropping in Bermuda from Hurricane Fay in October 2014. (Chad Sellers/Wikimedia)
For just a 21 square mile archipelago in the vast Atlantic Ocean, roughly three-fifths the size of Manhattan, Bermuda has been very unlucky lately.
In 2014, back-to-back hurricanes struck Bermuda within six days: Hurricane Fay on Oct. 12, followed by Hurricane Gonzalo on Oct. 18.
Fay was unexpectedly damaging, knocking out power to the vast majority of Bermuda's residents.
Cleanup had to be expedited as Gonzalo quickly followed; Gonzalo was Bermuda's strongest and most damaging hurricane since Fabian in 2003. Gonzalo left behind an estimated $200 million to $400 million in insured losses in Bermuda. It took two weeks to fully restore power, there.
In early September 2003, Hurricane Fabian struck Bermuda at Category 3 intensity in what was considered Bermuda's worst hurricane strike since 1926. An estimated storm surge up to 10 feet inflicted heavy damage at the coast, and roof damage was widespread in exposed areas.
According to the National Hurricane Center's final report on Hurricane Gonzalo, new construction in Bermuda is required to withstand sustained winds to about 110 mph, Category 2 intensity.