Every weekend in the run up to New Year I thought it might be good to take a step back in time and relive some of America and Europe's very worst, most extreme winters of the last 100+ years.
From Rick Grow
Nineteen years ago, a brutal and, in some places, historic cold snap impacted the U.S. and Canada. The time period was late December 1993 through January 1994, a nearly four-week winterfest with mercury-busting temperatures that felt more familiar to our North Atlantic neighbors in Greenland. Some in the meteorological community have drawn attention to the '94 Arctic outbreak in recent weeks as the long-range guidance has been turning colder. Frigid air is breaking containment and is now entering the North-Central U.S., and while temperatures will plummet to some of the coldest readings in two years across northern Maryland, it's clear that the cold will not match the intensity of that experienced in '94.
Free State Weather's Facebook page (
www.facebook.com/FreeStateWeather
) and Twitter account @GrowWeather have been forecasting a couple of "benchmarks" for this imminent cold blast: one, that Frederick temperatures will stay in the 20s on most days next week; and two, that the lowest overnight temperature will be near 10. According to the local NWS forecast, there will be at least 4 days (Tuesday-Thursday and Saturday) on which the high stays in the 20s and one morning on which the low approaches 10 (Wednesday):
http://forecast.weather.gov/MapClick.php?lat=39.4839351&lon=-77.4472495&site=all&smap=1&searchresult=Frederick, MD 21702, USA
. The forecast high for Friday is in the mid-30s, but FSW thinks it's more likely that temperatures will again fail to reach 30, thanks in part to a storm. First thoughts on this storm will be published later in the weekend.
These forecast temperatures, while well below normal (the average high/low is 43/24 at Dulles Airport), are comparatively milder than those recorded in January '94. Within a three-day span from the 19th to the 21st of that month following a heavy snowstorm in western and northern Maryland and a wintry mix across the DC and Baltimore Metro Areas, Emmitsburg dropped to -27, Catoctin Mountain Park reached -18 and Hagerstown tumbled to -16. Reagan National Airport set a new record for coldest maximum temperature of the 20th century when it hit only 7, beating the previous record of 8 set in January 1912.
Ice storms were prevalent in January-February 1994, but one in particular caused significant disruption to everyday life. North-central Maryland received 4-7 inches of sleet during the February 10-11 ice storm, while other areas across the state saw 1-3 inches of ice accretion from freezing rain and sleet. To put this in perspective, the NWS defines a "damaging" ice storm as one that produces accumulations of one-quarter inch or greater. For more on the highlights of this extreme Arctic outbreak, read Barbara Watson's technical review of "Maryland Winters" on the NWS Baltimore-Washington website:
http://www.erh.noaa.gov/lwx/Historic_Events/md-winter.html
.
As mentioned earlier, impacts from the January '94 outbreak were far-reaching, expanding well beyond Maryland. I've elected to summarize some of the most significant impacts below.
·
Areas throughout the Ohio Valley and central Appalachians established at least 18 new all-time record low temperatures.
·
Many places throughout Pennsylvania, New York and New England received the most snow on record for a winter season.
·
On a regional scale, six Midwestern states (Minnesota, Wisconsin, Illinois, Michigan, Indiana and Ohio) experienced top-10 cold outbreaks measured over a span of four days. Ohio, Michigan and Indiana had their second-coldest such spans with an average temperature of -4.8, -5.1 and -5.4, respectively. Wisconsin's four-day average of -16.2 ranks fourth all time, while Minnesota's -19.1 average comes in at eighth-coldest (
http://mcc.sws.uiuc.edu/climate_midwest/historical/cold96/cold.html
).
·
Temperatures in Detroit, Michigan, stayed below zero for 57 consecutive hours from January 18-20, the second-longest subzero period in the city's history. Also of note, Detroit recorded its coldest high temperature ever with a high of -4 on the 19
th
. The low of -20 reached on the same day was the city's third-lowest temperature all time. A high/low combination of -4/-20 translated to an average reading of -12, which made January 19, 1994, the coldest day in Detroit's recorded weather history.
·
Another Michigan city, Marquette, recorded 167 consecutive hours or nearly seven full days below zero between January 13 and January 20, a record for the longest period of subzero temperatures in the city's recorded weather history (
http://www.geo.msu.edu/geogmich/sig_weath_events.html
).
·
January 19 was an extremely cold day even for the South. Louisville, Kentucky, recorded an all-time low of -22, while Jackson tied its all-time low temperature record of -18. The recorded minimum of -37 in Shelbyville set a new statewide record low (
http://www.crh.noaa.gov/images/lmk/top20/19jan94lowtemps.PNG
).
·
Finally, winds reportedly gusted to 75 mph at Grandfather Mountain in the town of Linville, North Carolina (not too far from my alma mater at UNC Asheville), producing a wind chill of nearly -55 if the more recent 2001 wind chill index formula had been applied (
http://articles.latimes.com/1994-01-16/news/mn-12518_1_air-mass
).
A couple of temperature maps, displayed below, show the coverage and intensity of the Arctic outbreak for the period from December 23, 1993, to January 22, 1994. These maps use the Celsius temperature scale, so I'll convert the ranges to Fahrenheit for better reference. On the top map, the -6 to -8 °C anomalies extending from Minnesota through the Great Lakes and into Quebec are roughly 11 to 15 °F below normal. Broader temperature departures of -4 to -6 °C from the Lower Midwest to the Mid-Atlantic and Northeast translate to readings that averaged 7 to 11 °F below normal. The bottom map depicts the coldest lows that were reached within the same period. Lows ranging between -25 and -30 °C (or -13 to -22 °F) affected a wide swath of land from the interior Northeast (including northwest Maryland) and Ohio Valley to the Upper Mississippi Valley.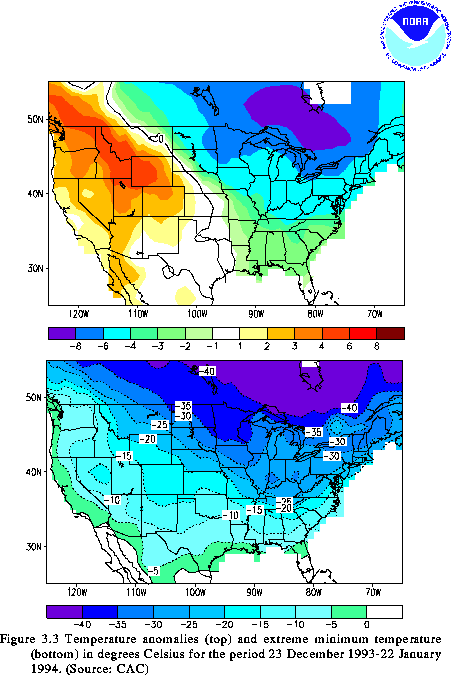 Ultimately, the cold air mass that will impinge upon Maryland next week will fall well short of matching the extremes observed with the '94 event. Perhaps a better analog for next week through much of February is the late-winter period of 2007. My next update will discuss the '07 analog, including a winter storm that affected Maryland around Valentine's Day that year. The '07 storm shares some characteristics with the one expected to track across the Central and Eastern U.S. late next week, though I don't think the result will be exactly the same (Frederick and most of Maryland received a mixture of snow and sleet with the Valentine's Day 2007 system; for more, click here:
http://www.erh.noaa.gov/er/lwx/events/14feb2007/
).
Suffice to say, my first thoughts on the late-week storm (next Friday-Saturday) are much different than those broadcast by a local TV meteorologist on Friday night. This particular forecaster said that the cold air would be departing Maryland by late next week, making way for a warmup to near 50 and rain. I will offer my own ideas on this along with the probablities and risks associated with the storm in the scheduled blog update for this weekend.
From NWS Indianapolis
Record Cold of January 1994
A couple of weather systems brought snow to central Indiana I the period of January 16-18, 1994. This left a layer of snow across central Indiana, with a snow depth at Indianapolis of 8 inches on the 17th, settling to 6 inches by the 19th. Behind these systems came a large area of arctic high pressure. The fresh snow, the arctic air, and relatively light winds allowed temperatures to reach all time record cold levels by the morning of the 19th. Below is a surface map valid the morning of January 19 (click to enlarge). The upper air maps are available at the bottom of this page.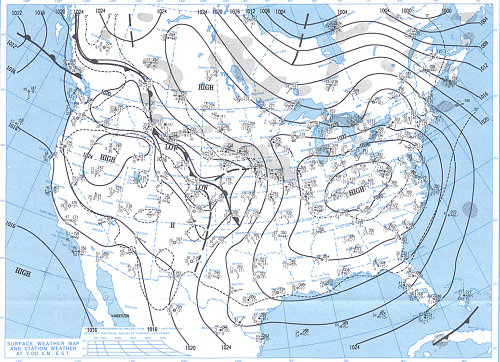 Surface map at 7:00 AM Jan 19, 1994. Courtesy of NOAA Daily Weather Maps publication.
Indianapolis set its all time record low of -27 degrees (F) on January 19. Below is a graph of temperatures during the 18th and 19th at the Indianapolis International Airport.
Map of Average Min Temperature on January 19 (courtesy of Midwest Climate Center). Click the image for a larger version.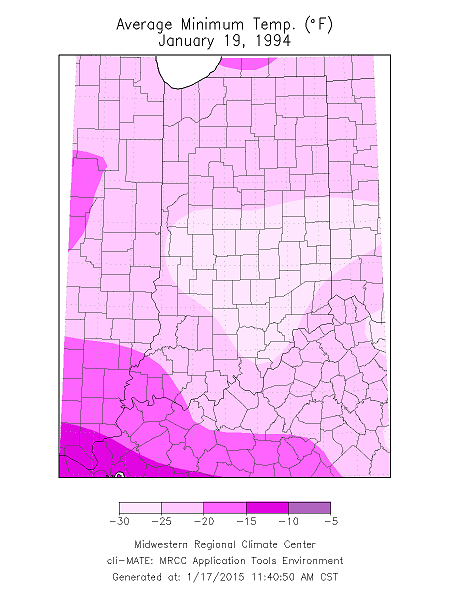 The all time record low temperature for the state of Indiana was recorded on January 19, -36 (F) at New Whiteland.
Below is the upper air reanalysis for the evening of January 18.
From Wikipedia
The 1994 North American cold wave occurred in the northern United States and southern Canada on January 18, 1994.
During the same period, the western United States experienced one of its most damaging earthquakes ever, and the eastern United States experienced a major snowfall that significantly delayed traffic.[1]
Over 100 deaths occurred in the United States as a result of the weather.[2]
Chicago
[
edit
]
Temperatures in Chicago, Illinois reached −21 °F (−29.4 °C)[1] with windchill of −55 °F (−48.3 °C),[3] the coldest day of the 1990s in Chicago by far.[4] Almost all primary and secondary schools in Chicago were closed that day. Richard Daley, mayor of Chicago advised residents not to go outside if they do not have to. Nearly all schools in the area were closed and four people in Cook County, Illinois died from hypothermia. Hundreds of drivers per hour complained to the AAA-Chicago Motor Club about dead automobile batteries, fuel injectors being too cold and other vehicle issues and United Airlines cancelled almost half of its flights. Tens of thousands of individuals complained about a lack of power due to severed electricity lines while water companies shut off water to homes as a result of pipe explosions.[3] Thousands of apartment renters complained to Cook County about insufficient heat.
Temperature records
[
edit
]
Washington National Airport, later renamed to Reagan National Airport, had a new record low max temperature for the 20th century of 8 °F (−13.3 °C).[5][6]
On January 19, the temperature in New Whiteland, Indiana dropped to −36 °F (−37.8 °C), the record lowest temperature in Indiana.[7] The minimum record temperature in Kentucky was −37 °F (−38.3 °C) in Shelbyville on January 19, 1994.[8]
The lowest temperature seen in Sussex County, New Jersey was −26 °F (−32.2 °C) on January 21, 1994.[9]:p.3
Pittsburgh, Pennsylvania saw its record low temperature of −22 °F (−30 °C) on January 19, 1994.[10] Columbus, Ohio set an all-time record low temperature of −22 °F (−30 °C) on January 19 as well. However, the arctic blast lasted for three days from January 18 to 20. [11]
On January 6–7, 1994, Lake County, Minnesota set records for the largest snow in one day as well as the most snow in one storm.[12]
Maine had its coldest month since February 1934[13] and its coldest January since 1920,[14] while Vermont had its coldest winter since 1958-1959[15] and the adjacent states of New Hampshire and Maine their coldest since 1976-1977 or 1970-1971.